Teaching music
As a professional double bass player, transmitting the knowledge and the experience has always been an important aspect of my career.
As a student myself for many years, I could realise how important it is to meet the right person at the right moment. The teachers I had the chance to meet in Switzerland and in New York really had a strong impact on my motivation and therefore, on my ability to achieve a good progress on the instrument.
This has been my moto for the last twenty years now. Giving back what I received. With patience, tolerance, openness, motivation and of course the material for achieving and mastering the instrument.
Lausanne
I teach in the Lausanne area at EJMA (Ecole de Jazz et Musiques Actuelles) and at the EMP (Ecole de Musique de Pully)
I also teach in my private studio which is located in Lausanne (M2 station « Bessières »)
Luzern
Since 2018 I also have a studio in Kriens, which is 10 Minutes from Luzern.
Style and levels
As a bass player, I had been interested in many different style of music. From metal to rock and pop as an electric bass player, and then in my 20's I switched to the double bass so then I learned jazz music. And in my 30's I became more and more interested in classical music, from barorque period to the 20th and 21st century music. All these styles were not just studies (although I practiced long and hard each of them) but also a huge quantity of experiences such as concerts, tours, recordings etc… So today I like to see all of the currents of music as one. The double bass gives this opportunity that you can play so many different styles and in so many different groups, from solo to trio to big band or symphonic orchestra. From baroque music to tango or pop. So for me it is natural to practice the different techniques of playing the instrument as well as the different harmonic rules that each style refers to.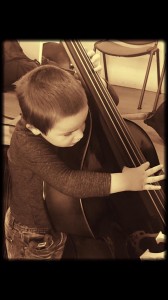 <!-LIEN TOP->

TOP

<!-//LIEN TOP->

<!-//CONTENT->